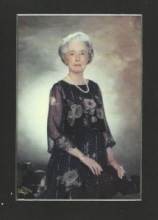 Obituary for Josephine Lockhart Reid
Josephine Lockhart Reid

March 21, 1925 November 15, 2016

Mill City, Oregon

Josephine was born on March 21, 1925 in Galveston, Texas to John W. and Frances Harris Lockhart. She began school at the age of four and graduated from Ball High School in Galveston at age sixteen. She attended Mary Baldwin College in Staunton, Virginia and graduated from the University of Texas with a Bachelor of Arts degree in microbiology at age nineteen.

Josephine met Dr. John Warren "Jack" Reid in a laboratory at Brachenridge Hospital in Austin, Texas where he was a surgical resident and she was taking a course in laboratory technology. Following his residency, Jack joined the United States Army Medical Corp while she remained in Austin to complete her studies. They married in 1945 in the Episcopal Church of Heavenly Rest in New York City.

After WWII Jack's father, a physician in Mill City, Oregon, asked them to relocate and help him care for the people of the North Santiam Canyon. Eventually Jack took over his father's practice while Josephine took responsibility for the laboratory. Her commitments gradually expanded to include the duties of secretary, x-ray technician, and surgical assistant. They served the people of the canyon for forty years.

Josephine and Jack traveled extensively throughout the United States and Europe. She was an avid reader of history and promoter of historic preservation. She delighted in helping to preserve the history of Mill City and enthusiastically supported the Galveston Historical Foundation in their efforts to preserve "The Bishop's Palace", the home of her great grandparents. She was an active member of the North Santiam Historical Society and The National Society of The Colonial Dames of America in the State of Oregon. She loved genealogy and was the family historian.

Josephine is survived by her daughter, Frances Reid Thomas of Mill City and son, Dr. John Warren "Warren" Reid, Jr. (Dr. Martha Sharman) of Vancouver, Washington. She had three granddaughters: Crystal Thomas of Eugene; Dr. Catherine Reid (Dr. Markus Huth) of Bern, Switzerland; and Elizabeth Reid Kuzma (David) of Vancouver, Washington. She had two great grandsons: Jack Gardiner and Reid Kuzma.

There will be an open house and celebration of her life in Mill City at the home of her daughter on January 7, 2017 from 1:00 – 3:00 PM. In lieu of flowers, memorials may be sent to: The North Santiam Historical Society, P.O. Box 574, Gates, Oregon 97346; The NSCDA in Oregon, 1308 S.W. Wyndham Lane, Portland, Oregon 97221; The Town Club Preservation Fund, 2115 S.W. Salmon Street, Portland, Oregon 97205; OHSU Foundation, Mail Stop 45, P.O. Box 4000, Portland, Oregon 97208-9852; or the charity of your choice.