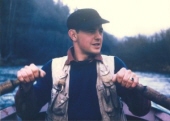 Obituary for KENNETH ARLYN LORETZ
Kenneth Arlyn Loretz, son of Kenneth Preston Loretz and Hilda (Larson) Loretz, left us on Sunday July 27, 2014 to go fly fishing on a coastal stream teeming with steelhead and native cutthroat trout. His passing was peaceful with his three children caring for and supporting him. Ken, aka Kenny, aka Curly was born in Salem on May 13, 1933 while his young parents and older sister Beverly lived in Cloverdale, Oregon.   The family lived in Cloverdale for several years while Ken's father worked building military homes and facilities on Mount Hebo. The family moved to Tillamook where Ken attended grade school, and then moved to Eugene where he attended middle school and a year at South Eugene High School before finding his way back to the coast. His mother Hilda had passed away and Ken left home to live with his uncle and aunt, Teak and Dorothy Larson in Cloverdale, attending Nestucca High School where he met his wife to be, Lee Kellow. Marrying Lee included Ken in the large Kellow Family which he enjoyed. He was close to his many brother and sister-in-laws and was "Uncle Ken" to 21 nieces and nephews.

Our dad was most happy in the woods, on a stream, in the mountains or on the ocean. The outdoors was his church and hunting and fishing were his passion. Dad was artistic, creative and an amazing craftsman. He loved figuring out ways to do a job more efficiently and could build, paint or fix almost anything, always with an attention to detail and quality. A self-proclaimed "Jack of All Trades" Dad worked in many fields during his life, but his real gift was being a commercial painter with a brush in his hand and he ran successful painting contracting businesses on the coast, in Bend and in Salem. He retired as a painting supervisor for the Eugene School District, where he was excited to select the colors and repaint South Eugene High School where he attended.

Ken was a proud father, grandfather and great grandfather.   He is survived by his three children, Mike (Kathy) Loretz, Bev (Frank) Yesmant, and Cindy Ashley, his six grandchildren; Dan (Candace), Melissa (Jason), Alexis (Claire), Taylor, Ian, and Calvin (Katrina), and two great grandson's Jack and Sam. Through the miracle of ultrasound Ken was excited to know that two great granddaughters would be arriving this fall. He was preceded in death by his beloved sister Beverly Pritchett.

The last years of our father's life were challenging with numerous health issues related to COPD. Like a boxer in a ring he was knocked down too many times to count and we often thought his number was up, but he always found the strength and courage to stand up and carry on. He was both strong and brave in our eyes. He was known as a "kind and nice man" and was always looking to help out others, many times complete strangers. We are all hopeful that his self-reliant and confident strength so admired by his family, friends and co-workers has returned and that his only challenge now is deciding which pair of binoculars to take into the fern filled timber looking for deer and elk, or which fly pattern will get a rise in the tail-out of the riffle in the stream he stands in.

There will be a Celebration of Life for Ken on Saturday, August 16th beginning at 11:00 a.m. at Mike and Kathy Loretz's home and property at 7849 Timothy Lane in Keizer.

Arrangements entrusted to Weddle Funeral Services Stayton, OR.