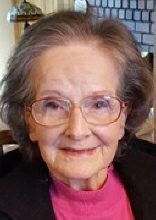 Obituary for Kathleen Ramona Peerenboom
Kathleen Ramona Peerenboom

September 20, 1931 October 6, 2017

Gresham, Oregon

Kathleen (OMara) Peerenboom, 86, died peacefully at home on October 6, 2017. Kathleen grew up in Tigard, Oregon, and moved to Salem upon graduating from Tigard High School, to work for the State of Oregon. Soon thereafter she met Raymond Peerenboom and the two were married September 1, 1951. She eventually left working for the state to work as a recording secretary for such groups as Oregon State Employees Association and Oregon Employees Federal Credit Union so that she could work from home and spend more time with her family.

Kathy was a lover of the arts, particularly music, and a devoted mother and grandmother. She was a frequent volunteer at St. Joseph School and Sacred Heart Academy while her children attended the schools and was active in her sorority as well as alumni functions for both her and her husband. She loved to bake and frequently did so for anyone with whom she came in contact. Later in life Kathy sang in her church choir as well as Festival Chorale of Oregon, having the opportunity to tour such places as Carnegie Hall and Western Europe with FCO.

She was preceded in death by her husband, Raymond. Among her survivors are her sister Teresa; her children Sharon, Karen, Mike and Jim; and her grandsons Ryan, Terry, Trent and Cameron. A Funeral Mass will be held at St. Joseph Catholic Church in Salem, October 14 at 10:30 am. Interment to take place at St. Barbara Cemetery, Salem. Donations can be made to Salem Friends of Felines in her honor.

Arrangements entrusted to Weddle Funeral Services.