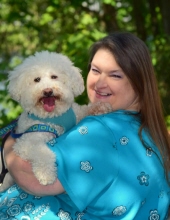 Obituary for Kathy Joan Smelcer
Katheryn "Kathy" Joan Smelcer

Salem – Kathy Smelcer, 60, went to be with her Lord and Savior on Monday, July 6, 2020 after passing suddenly at home. Kathy was born on November 19, 1959 to Earl and Lucille Mae Smelcer in Hermiston, Oregon. Kathy moved with her parents, two older sisters, and one older brother to the Willamette Valley when she was young and the family settled in Stayton, OR, and then Salem, OR.

Kathy graduated from Stayton Union High School in Stayton, OR in 1978 and then moved to Salem with her parents and attended Western Baptist College for some time.  Kathy worked for the State of Oregon at the Department of Motor Vehicles for many years, eventually leaving in 1997 after starting an at-home business being a consultant for Close To My Heart card making and scrapbooking supplies. She would represent that company for the last 22 years until her passing. Kathy went back to Western Baptist College (Now Corban University), earning her Bachelor of Arts Degree in Psychology in 2005, and a second Bachelor of Arts Degree in American Sign Language in 2008, and was Salutatorian of her class. Kathy chose to become an interpreter for the deaf, specializing in medical interpretation and was employed at many different companies as an independent contractor up until her death.

As Kathy's health declined and she spent more time at home, she was given a 'prescription' for a service animal from her doctor. Kathy rescued a cute little white fluff ball in the form of a Bichon Frise named Jonathan, who became not only her service animal, but her fur baby and constant companion. Kathy loved Jonathan more than anything - spoiling him with unconditional love like only a mother can, even though he had a propensity for chewing seatbelts, leashes, stuffed animals, and an occasional item of clothing if he could find it.Kathy devoted her life to Christ and was steadfast and strong in her faith. She was a member of First Baptist Church (Now Foothills) in Stayton, OR and most recently, Salem Alliance Church in Salem, OR. Kathy never married, and had no children, but she was "Auntie Kathy" to so many of her friend's children, and her own nieces and nephews, and great-nieces and great-nephews. Kathy loved children and was always collecting little gifts and baubles to have on-hand for giving to whomever came to visit her. Kathy made so many wonderful friends throughout her years in church, and as a consultant with Close To My Heart, as well as Tastefully Simple, and Pink Zebra.

Kathy loved to garden and grew beautiful flowers. She could not maintain a large garden but loved tomatoes and would plant them in pots and in her front flower bed with the help of her friends and neighbor. Kathy had many different hobbies, and in addition to her passion of card making and paper crafting, she loved sewing, crocheting, and knitting. Kathy also loved to cook and was always collecting new recipes – and recipe books - of which she had an extensive library. Many people know of her love of Charlie Daniels, and how excited she was when she got to meet him personally and get a photograph with him. It is quite ironic they died the same day…we hope she got to hold his hand on the way to Heaven.

Kathy was preceded in death by her parents, her older brother, Carl, her older sisters, Helen Walker and Laurie Kinney, and her niece, Ami. She is survived by her nephew, Brian (Kellie Jo) Kinney of Stayton, OR, nephew Charles Cheffings of Oakland, OR, and nephew Nathan Smelcer of Hobbs, NM, brother-in-law, Larry Walker of Savannah, GA, and many great-nieces and great-nephews, and her beloved four-legged companion, Jonathan.

Due to Covid-19 restrictions, Kathy's Celebration of Life will be held when we can all gather safely and will be announced on her Facebook Remembrance Page. Her family will contact her friends at that time to help spread the word when the arrangements are made. There will be no graveside services. Her ashes will be spread with those of her older sister, Laurie Kinney.

In lieu of flowers, donations to any animal rescue, Church, or The Casey Eye Institute in Kathy's name will be greatly appreciated by her family. Kathy will be greatly missed by those who knew and lover her. Please leave a message or story on her Facebook page so we may all share memories and stories with each other.