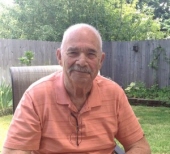 Obituary for Ken E. Smith Jr.
Ken E. Smith Jr.

July 14, 1932 February 13, 2016

Salem, Oregon

Devoted husband, loving father, care-free grandfather, fun great-grandfather! Ken was born to Kenneth E. and Helen Smith in Mill City, Oregon. Both parents precede him in death. Surviving siblings include Stanford Smith of Keizer, OR, Berdine (Dee) James of Phoenix, AZ and Richard Smith of Crooked River Ranch, OR. After graduating from Stayton High School, Ken joined the United States Air Force and was a radio operator. Many of his missions were classified but we can say he spent a lot of time somewhere over the Lucian Islands. After his tour in the service, he moved to Bend where he ventured into the banking profession. There, he met and married the love of his life, Vivian M. LaDieu, who preceded him in death in 2011. They had three daughters; Starla (Dave) Henslee of Salem, OR; Vicki (Jim) Hays of Lakeport, CA; and Kollette Tonelli (who also preceded him in death in 1998). He had five grandchildren and seven great-grandchildren at the time of his passing. Ken never let the grass grow much under his feet. He was an adventurer and throughout his life lived in Bend, The Dalles, Pendleton, Scotia, Santa Rosa, and Alturas. It was in Alturas where he and his lovely wife Vivian and family settled for about seventeen years. During those years, he was Vice President/Branch Manager for the Wells Fargo Bank. He loved being involved with the Modoc community. He was a member of the local Rotary as well as a regular participant of the local Tribe Ride for many years. After retiring from the bank, he and his wife, bought and operated The Bottle Shop. Before trying their hands at full-time RVing, they spent a few years in Kelseyville, where they bought and operated The Frosty. After ending their RVing adventures, they settled in Salem where they spent their remaining years together. A Memorial Service for Ken will be held on March 25th, 2016 at 11:00am at Weddle Funeral Chapel in Stayton, Oregon; interment with Military Honors will immediately follow at Lone Oak Cemetery.

Arrangements entrusted to Weddle Funeral Services.