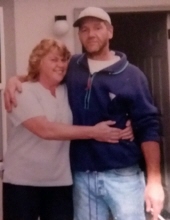 Obituary for Kevin Todd Borregard, Sr.
Mill City- Kevin Todd Borregard, Sr. was born on February 4, 1963 in Salem, Oregon to Roy Daniel Borregard and Judith Ann (McDonald) Borregard. Kevin graduated high school in Portland. While in high school he would meet his future wife, Ginger. Starting out as high school sweethearts, they would be together for over 40 years. Kevin lived in Nevada for 8 years until he returned to his home state where he spent most of his time doing the things he loved like being in nature hunting,and occasionally fishing. He loved to teach his children about what the woods had to offer such as what was edible and what not to eat incase they ever had to survive in the wild and loved to gather chanterellel mushrooms.

He later would attend trade school to do flooring installation. Kevin became a master of his trade and worked his way up to flooring mechanic; Kevin was able to do lots of custom work and installation. Besides work, Kevin enjoyed woodworking. 

Kevin had an incredible sense of humor and was always trying to make others laugh. Kevin had a generous heart and was always wanting to help others.  

Kevin passed away on March 18, 2021 in Mill City, Oregon. He was preceded in passing by his sister Barbara and his brother Jack Brothers. He is survived by his loving partner of 43 years, Ginger Borregard; his 3 children, Kevin Jr (Jamie), Jeremy, and Shania; mother, Judy Brothers; father, Roy (Jean); 4 grandchildren (Joey, Kayla, Adalai, Elijah); and siblings, Ed, Cathy, Brian, Melissa and Jim.


Events