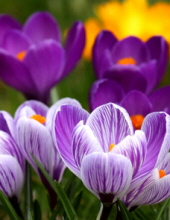 Obituary for Kimberly Kay Ellis
Kimberly Kay Ellis, age 60, passed away on February 21, 2020 in Albany, Oregon.

Kimberly was born on November 6, 1959 in Albany, OR to Joel and Betty (Smith) Hampton. She attended Central Linn High School. After graduation, Kimberly started her career with Winco, where she worked her way up to Stock Manager! She retired in 2013 when she received her cancer diagnosis. Kimberly wasn't one to sit still though, and she went to work as an In-Home Care Aide, where she made many dear friends. She greatly enjoyed the 7 years that she spent in this position and continued to work until quite recently.

Kimberly loved life, and was described by her family as a strong, confident and caring woman with a great sense for fashion! She chose to put the needs of others before her own, and her 2 boys were her pride and joy. She loved going to concerts and Oregon Ducks Games, working in her garden, shopping and being around people. She loved cats, flowers and having fun.

Kimberly was preceded in passing by her father and her sister. She is survived by her sons, Joshua Jennings and Andy Ellis; her grandson, Tyler; her beloved kitties Victor and Missy; her mother and her great grandmother. She will be greatly missed.