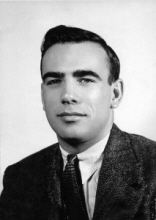 Obituary for L. Lee Hazelwood
L. Lee Hazelwood

May 2, 1920 Dec. 7, 2015

Stayton, Oregon

Lee Hazelwood was born in Oakvale, West Virginia, the third of four children of L. "Andy" Hazelwood and Rhoda Biggs. The family later moved to Shelby, Ohio where he grew up. After graduating from Shelby High School, he met the love of his life Catherine Bollman. They were married August 16, 1941 where they both worked for the Shelby Sales Book. They soon moved to Dayton, Ohio where he was a Lithographer for Reynolds and Reynolds. As a civilian lithographer during WWII, he was responsible for printing top secret reconnaissance photos used for bombing missions.  Their first three children were born in Dayton. In 1957 the family moved to Trenton, Michigan and added another son to the family. Lee became Vice President of Truckway Service Corporation, a large trucking firm that hauled salt throughout the Midwest. He retired in 1978 and moved to Stayton, Oregon.

Lee was always active in the community and his church. He was instrumental in founding Disciples of Christ churches in Dayton, OH and Dearborn, MI. His deep faith set a great example for the entire family. He served on the Stayton City Council and was the Chamber Man of the Year. For over 30 years he devoted his time at the Oregon Capital as an unpaid lobbyist for Seniors and People with Disabilities. He initiated with the establishment of Oregon Project Independence and fought for its funding for over 30 years. He served numerous terms on the Governors Commission on Aging, The Seniors Advisory Commission, and the Silver Haired Congress in Washington D.C.

Lee was an avid Ohio State fan and golfer who enjoyed playing golf at Santiam Golf Course; both he and Catherine played golf into their late 80's.

Lee was preceded in death by his wife of 73 years, Catherine, their son Mark and is survived by children: Kent (Mary Lou), Kay, and George. Grandchildren: Jill Hendrick, Wendy Edwards, Cara Ruettgers, Jennifer Burkhart; Jodi, Aimee, Sean and Corey Laguire, Hannah and Lee Hazelwood and 10 great-grandchildren

A Memorial Service celebrating his life will be held at the First Christian Church, 685 Marion St NE, Salem on Saturday, January 9, 2016 at 1 PM.

In lieu of flowers, please consider a donation to either First Christian Church of Salem or Stayton Friends of the Library 515 N. 1st Street, Stayton.