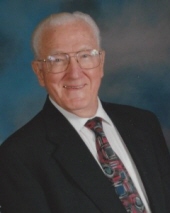 Obituary for LANOL WOODROW LARSON
LANOL W. LARSON

Jan. 7, 1918   †   July 3, 2014

Lanol W, Larson was born in Salt Lake City, Utah on Jan. 7, 1918. He was the son of Lars Peter and Louisa Alganora Oveson Larson. Lanol served in the U S Navy during WWII. He was married to Vivian Payne. She preceded him in death in 1979. He was married to Adele Thomas in Cottage Grove in 1980. He had worked as a Woodworking Machinery Sales Manager for Frank E. Jones Machinery Company in Los Angeles, and then Tri Sate Machinery and Kimwood Industries in Texas and Cottage Grove for many years before retiring at the age of 72. Lanol was a member of the Church of Jesus Christ of Latter-day Saints and enjoyed golfing, bowling and water skiing. He is survived by his wife, Adele; children, Launa Gae Lindsey, Bryan Larson; step-children, James Thomas, Steven Thomas, Craig Thomas, Alison Nelson and Russell Thomas; 14 grandchildren; and 49 great-grandchildren.

Visitation will be Sat. July 12th at 9:30 in the Relief Society room at the Church of Jesus Christ of Latter-day Saints, Stayton Ward. Funeral service will follow at 11:00 am. Military honors will be provided after the service and burial will be in Forest Lawn Memorial Cemetery, Hollywood Hills, Los Angeles, California on Monday, July 14th. Memorial contributions may be made to the boy Scouts of America.

Arrangements entrusted to Weddle Funeral Services Stayton, OR.