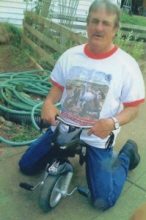 Obituary for LARRY L. LYON
Oct. 23, 1949 – June 5, 2012

MOLALLA – Larry L. Lyon,  age 62, passed away on Tuesday, June 5th in Salem.  He was born Oct. 23, 1949 in Tacoma, WA to Leon and Geraldine Lyon.  Larry grew up in the Idanha and Detroit area.  He was married to Debbie Hanson 26 years ago and they made their home in Idanha before moving to Molalla in 2000.  He had worked as a Heavy Equipment Operator for Interfor Pacific in Molalla for 10 yrs before retiring due to a quad accident.   He had enjoyed riding quads, fishing and watching his favorite television show "Two and a Half Men".

He was preceded in death by his mother, Geraldine, his brother, Michael and his twin brother, Terry.

He is survived by his wife, Debbie;  son, J.D. Lyon of Phoenix, Arizona; father, Leon Lyon of Sublimity; step-children, Desiree (Iban) Childress of Salem, Dustin (Shannon) Childress of Molalla, Demiree Childress and her fiance' Angelo Jefferson of Stayton; brother, Patrick Lyon of Oak Harbor, WA; sister, Vonnie Carlson of Puyallup, WA; 11 grandchildren; and 1 great grandson.

Visitation will be from 9 am – Noon on Monday, June 11th and Funeral Service at 3:00 pm both at Weddle Funeral Chapel, private interment at Fairview Cemetery, Gates, OR.

Arrangements entrusted to Weddle Funeral Services Stayton, OR.