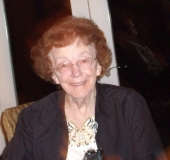 Obituary for LENA PAGE
February 28, 1919 August 14, 2013

Lena (Huber) Page, 94, passed away August 14, 2013 in Salem. She was born in Mellette County, South Dakota on February 28, 1919, one of nine children of Karl and Amelia Huber.  When Lena was a teenager the family moved to Oregon to escape the Dust Bowl and made their home in Marion.  Lena married Clinton Page in 1943.  After his military service they lived in Salem before moving to a house Clinton designed and built for the family in Keizer.  In 1962 Clinton and Lena moved their family to a small farm seven miles northeast of Salem.  With the help of loving neighbors—especially Marilyn and Lynn Kuenzi and their family—Lena continued to live there independently as long as she was able. She spent the final years of her life at Premier Care Homes' Juneau House in Salem and Lena's family cannot express in words how much they appreciate the wonderful care she received there from Liz, Josh, and Jennifer.

Lena had a quiet, understated sense of humor and she loved people.  A morning person, she was perpetually good-natured.  This made her a natural at her job as "head girl" at Roth's bakery on Lancaster, where she worked for many years.

Lena was a hard-worker and tried her best to guide her kids down the paths that would make them happy.  She set an excellent example of a life well-lived.

An avid gardener for most of her life, Lena kept such a beautiful yard people would stop their cars in the street to admire her flowers.

Lena loved spending time with her grandchildren either at her farm or by traveling to wherever they were living.  This led her to make several visits to Alaska where she proved to be an excellent fisherwoman!  Being both intelligent and inquisitive, Lena thoroughly enjoyed taking a trip to Hong Kong and Singapore with her daughter and two of her grandchildren when she was 76 years old.

Lena was preceded in death by all eight of her siblings and by her husband, Clinton, who died in 1997.  She is survived by her daughter, Phyllis, of San Diego, California; her two sons, Marvin, of Anchorage, Alaska and Jerry (Cheryl) of Jefferson; and her four grandchildren.

A celebration of Lena's life will be held at a later date.  In lieu of sending flowers, Lena's family encourages you to plant a flower in your own yard and remember Lena whenever you look at it.

Arrangements entrusted to Weddle Funeral Services Stayton, OR.