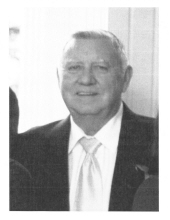 Obituary for LEROY TOMMY DORAN
LEROY TOMMY DORAN

May 25, 1939   †   Sept. 29, 2013

    Leroy passed away at the age of seventy- four after a battle with cancer.  He was born in Green Forest, Arkansas to William and Faye Doran.  They moved to Oregon in 1939.  He attended Cascade Union High School.  Leroy married Jean Poplin on Sept. 13, 1956.  They resided in the Aumsville-Stayton area throughout their entire marriage.  Leroy owned and operated a local tire store until he retired.  During his retirement he opened Leroy's Satellite to occupy his time until he decided to completely retire in 2001.  Leroy loved to work on cars and was always more than willing to help you.  He had an amazing sense of humor and people loved him and could rely on him at a moment's notice.  He loved to laugh and embraced every moment spent with his family.  He is survived by his wife, Jean; sons, Rick,  Lonny (Laura), Ronny, Dennis (Cheri), Terry; daughter, Lisa; seven grandchildren; two great grandchildren; brother, Larry Doran; sister, Pauline Garoutte; and several nieces and nephews.  A memorial service will be Saturday, October 12, at 1:30 pm at the Church of Christ, 189 E. Washington. Stayton, OR.

Arrangements entrusted to Weddle Funeral Services Stayton, OR.