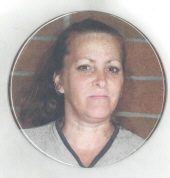 Obituary for LINDA SUE SINCLAIR
LINDA  SUE  SINCLAIR

February 12, 1964 September 7, 2013

Linda Sinclair was born in St. Louis, Missouri on the 12th of February, 1964.  She passed away on Saturday the 7th  as the result of a motor vehicle accident  on Jefferson-Scio Road.  She was 49. The daughter of Millard and Edith Threet.  Linda moved to Oregon at a young  age and lived in the Lyons area before moving to Stayton.  She attended Cascade High School and worked  in merchandising for Safeway in Stayton and Lincoln City.  She then lived Siletz and Salem  before moving back to Stayton in 2008.  Linda loved horses and spending time with her grandchildren, she also enjoyed auto mechanics, fishing, floral gardening and collecting rocks and sticks.  She is survived by her daughter, Teri  (Kirk) Stutzman  of Lacomb;  grandchildren, Lilly and Samantha Ann ; her fiance, John Spurgeon of Stayton;  and her dog, Samuel.  Celebration of Life will be held Sunday, September  22nd at 2:00 pm at Weddle Funeral Chapel, Stayton. A Potluck reception will be following at Pioneer Park.  Please contact Teri for additional information503-991-3036.  Memorial contributions may be made to Oregon Humane Society.

Arrangements entrusted to Weddle Funeral Services Stayton, OR.