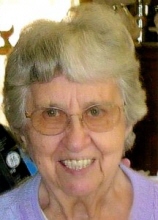 Obituary for LOLA L. POLLREISZ
December 14, 1929 – October 10, 2012
Stayton, Oregon

Lola was born in White Lake, South Dakota on the 14th of December, 1929.  The daughter of Claude and Vadia Johnson.  Lola passed away on Wednesday, Oct. 10th in Stayton.  She was 82.  Lola was married to Michael Pollreisz on Dec. 29, 1948 in Plankington, SD and they moved to Oregon in 1954 having lived in the Stayton/Sublimity area.  She had worked at the cannery and was a member of the Eagles lodge for many years.  She was a member of the Catholic Church and enjoyed ceramics and needlework.   She was preceded in death by three of her children, Mary, Joseph and Jerry in 1957.  Her husband,  Michael preceded her in death in 2001. She was also preceded in death by brothers, Dale, Dave and Tommy; and sisters, Linda Johnson and Kay Duke.

She is survived by her sons, Albert (Laura) of Elgin, Timothy (Michelle) of Stayton;  brothers, Everett of CA, Leroy of MT, Harold of Silverton, Eddie and Jimmy; sisters, Vera Dube of Salem, Florence Stocker of Stayton, Wilma Marshall  of OR, Dorothy Montgomery of Salem, Carol Sego of OR, Sandy Altsular of South America; and 4 grandchildren.

Memorials may be made to Camp Taloali, Eagles Lodge or Kidney Assoc.

Memorial service will be held Wed. Oct. 17th at 3:00 pm at Lakeside Assisted Living Dining Hall, Stayton.

Arrangements entrusted to Weddle Funeral Services Stayton, OR.