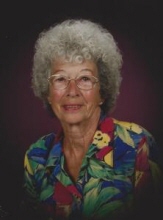 Obituary for LORAINE M. BRUCE
January 15, 1925 – December 4, 2014
Sublimity, Oregon

Our Mother passed away peacefully at her home surrounded by her family.  She was born in Sublimity to William and Mary Duchateau and lived in Sublimity all her life.  She attended Saint Boniface Grade School and High School.  Mom was preceded in death by her husband J.D. Bruce, brothers; Dennis and Duane Duchateau.  She is survived by sons; Larry Bruce of Salem, Perry Bruce of Sublimity, daughter; Linda Bruce of Portland, Grandchildren; Rob Bruce of Turner, Stacy Patterson of Bend, Eric Bruce of Salem, Joshua Bruce of Salem along with five great-grandchildren.  Visitation: Monday, December 8, from 10:00 a.m. to 6:00 p.m. at Weddle Funeral Chapel.  Funeral Mass: Tuesday, December 9, 2014   11:00 a.m. at St. Boniface Catholic Church, Sublimity.

Arrangements entrusted to Weddle Funeral Services Stayton, OR.