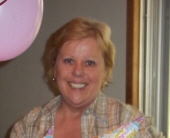 Obituary for LOUELLA S. WOODWORTH
Louella Sue Woodworth

January 26, 1951 November 16, 2013
Stayton, Oregon

Louella Sue Woodworth passed away peacefully at her home in Stayton, OR at age 62.  She was born January 26, 1951 in Bangor, Maine.  She moved to Rhode Island at age 11 and later graduated from Burrillville High School.  She gave birth to her twin sons Brandon Haggas (Stayton, OR) and Colin Haggas (Sweet Home, OR) while living in Lakenheath, England.  A few years later she moved back to Maine and then to Omaha, NE where she gave birth to her son Kevin Haggas (Stayton, OR).  She moved to Aumsville, OR in 2002 and then to Stayton, OR in 2010.  Louella had a beautiful voice and was an active member of the Oregon Spirit Chorus in Salem, OR.   She also loved quilting, cooking, camping and spending time on the Oregon Coast.  She had a passion for animals and supported several animal rescue shelters. She was known as "MaLou" by her two grandchildren, Ben and Ella Haggas (Sweet Home, OR), and adored spending time with them.

In addition to her three sons and two grandchildren, Louella is survived by her sisters Jolie Parker (Fairbury, NE), Tammy Woodworth (Des Moines, IA) and Della Stahlnecker (Omaha, NE), brother Howard "Huddy" Woodworth (Montevideo, MN) and daughter-in-law Lindsey Haggas (Sweet Home, OR).  She is preceded in death by her parents Ella and Phillip Woodworth (Omaha, NE).

Her family will have a private celebration of life on the Oregon Coast.  To honor Louella, donations can be made to the Lighthouse Farm Sanctuary.

Arrangements entrusted to Weddle Funeral Services Stayton, Oregon.