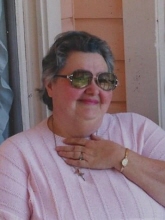 Obituary for LOUISE E. WOLF
LOUISE  E.  WOLF

June 12, 1945   †   June 16, 2013

Louise E. Wolf  went home to be with our Lord and Savior on June 16,  2013.  She was born Louise Whitfield  on June 12, 1945 to James and Idella "Della" Whitfield in Salem, Oregon.  .  She graduated from  Cascade  High School class of 1963.   She married Anton Wolf in Shaw on June 5, 1971,  and they made their home in Turner in 1973. She and Anton had a son, Mark. Louise  was very active in the St. Mary's Catholic Church in Shaw, she was a member of the Altar Society.  Louise volunteered at the Turner Elementary and Cascade Jr. & Sr. High school.

She is survived by her husband, Anton and  son, Mark Wolf of   Turner ; brothers,  Junior (Pat) Whitfield  of Turner, Bob of Oregon,  Charles (Phyllis) Whitfield of Salem ; sisters, Rose   Herman of Aumsville  and Barbara Whitfield  of Washington ;   numerous  nieces and nephews and grand nieces and nephews.

Memorials may be made to  Willamette Valley or Odyssey Hospices.

Rosary will be Tues. June 25th at 10:30 am followed by Memorial Mass at 11:00 am  at the St. Mary's Catholic Church, Shaw, OR.    Committal will follow in St. Mary's Cemetery, Shaw.

Arrangements entrusted to Weddle Funeral Services Stayton, OR.