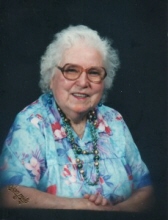 Obituary for LYDIA PAT BLUM
September 17, 1913 – October 30, 2012
Stayton, Oregon

Lydia "Pat" Blum, 99, of Stayton, passed away on Tuesday October. 30th.  She was born in South Dakota on Sept. 17, 1913.  She married Duane Winslow and together they enjoyed cattle drives on horseback in Wyoming and Montana.   Later, they were part owners in a Silver Mine in Nevada, before making their home in California where they enjoyed flying and  were owners of a restaurant at Happy Camp, California. Duane was later killed in a plane accident.  She  married Leonard Blum on April 1, 1954 in Eureka, CA  and they moved to Mill City where she was very active in Gleaners.  She enjoyed gardening, making crafts, crocheting and knitting.  She also provided day care for the children of the local mill workers for many years. Pat was a member of the Mill City Grange.  She and Leonard greatly enjoyed hunting, fishing and playing games with friends and family.  Leonard preceded her in death on Nov. 24, 1992. She then moved to Stayton.  She was a member of the United Methodist Church.

She is survived by her sister, Irene Luckey of Underwood, WA; adopted daughter, Marilyn McKibben of Aumsville; adopted grandson, Wade Davis of Stayton; nephews, Robert Luckey of Buena Park, CA, Gary Luckey of White Salmon, WA, John Blum of Salem; nieces, Pam Luckey of Anaheim, CA, Celaine Luckey of Moses Lake, WA, Robin Davick of Auburn, WA, Carla Peery of Seattle, WA, Doris Etzel Blum of Monroe, OR; and numerous grand and great grand nieces and nephews.

Visitation will be held on Friday, Nov. 2nd from 9 am 5 pm at Weddle Funeral Chapel, Stayton.

Funeral Service will be held on Saturday, Nov. 3rd at 1:00 pm also at Weddle Funeral Chapel.

Interment will be at Lone Oak Cemetery, Stayton.

Arrangements entrusted to Weddle Funeral Services Stayton, OR.