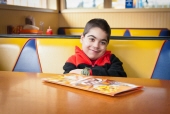 Obituary for LaDante Montana Paden
March 20, 2003 April 10, 2013

LaDante Montana Paden ran into the arms of our Savior on April 10, 2013, following a lifelong illness. His final days were spent surrounded by family and friends.

Dante's life would seem too short to many, but those who knew him know his life was overflowing beyond the 10yrs we were granted with him. His body may have appeared frail and broken, but he possessed strength , perseverance, and an ability to overcome incredible odds. He taught us that each day is a blessing and an opportunity for adventure and creating lasting memories. Dante loved watching "The Wiggles", making music, and going to school. He taught us that everything tastes better with ketchup, everyone is a friend, and how to really laugh.

With Dante's passing we remind others that his life is one to be celebrated. Although we dearly miss him, especially his contagious laugh and winning smile, he will forever remain in our hearts.

Dante's love extended to all that shared a part of themselves with him including his nurses, doctors, therapists, teachers and friends too numerous to name. Dante was met in Heaven by his big brother Jordy and leaves behind his parents, Ron and Kathy; Princesses Roni, Dakota, Caitlyn, Jessica, Destiney, and Amber; brothers Cody, Robert, Sam, Ryan, and Andrew; Nephew Justin; and nieces Riley and Zoey-Jane.

A celebration of life will be held Sunday, April 21st at 2:00pm at Church on the Hill-South Campus, Turner OR. Please wear Dante's favorite "Wiggles" colors- red, blue, yellow or purple.

Arrangements entrusted to Weddle Funeral Services Stayton, OR.