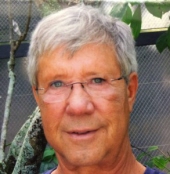 Obituary for Larry Robert Bruce
Larry Robert Bruce

September 22, 1943 December 16, 2015

Salem, Oregon

Larry R. Bruce, 72 passed away in his home on December 16, 2015 at the age of 72. He was born on September 22, 1943 in Silverton Oregon to JD Bruce and Loraine ( Duchateau ) Bruce.

Larry resided in the Sublimity area his entire life. BrucePac as we know it today is the direct result of the passion Larry had for the meat business. Under Larry's guidance the Company grew from the original location in Sublimity to locations in Silverton, Woodburn, Tres Rios Brazil and the most recent facility in Durant Oklahoma, which is scheduled to open in February of 2016. Larry will be greatly missed by all those fortunate enough to have known him.

Larry was preceded in death by his parents JD and Loraine and his  brother Perry. He is survived by his wife Gleidis; his sister Linda his son Robert and his wife Kimberly; grandchildren JD, Valeska, Jaaron and Alyvia.

Visitation will be  held Monday, Dec. 21st , 10:00 am – 6:00 pm at Weddle Funeral Chapel, 1777 N. Third Ave. , Stayton, OR. Funeral Mass will be held Tues. Dec. 22nd at 11:00 am at St. Boniface Catholic Church, Sublimity. Burial at Cemetery of Holy Angels. Arrangements entrusted to Weddle Funeral Services. Online condolences to Weddle-Funeral.Com.