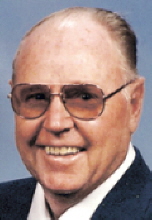 Obituary for Leo G. Bud Hance
Leo G. Bud Hance

November 26, 1921 February 17, 2009
Salem, Oregon

Leo G. Bud Hance, 87, of Salem died peacefully February 17, 2009 in Salem. Bud was born in Scobey, Montana to Eddie and Hattie Hance. Bud was a WWII veteran. He met and married Helyn Kennedy in 1947 in Spokane, Wash. Bud owned and operated Hance Oil Company in Stayton from 1967 1997. His brother, Alden Babe, joined him as his partner until his untimely death. He was a lifelong member of the Catholic Church and was Grand Knight of Stayton/Sublimity Knights of Columbus. He was a loving husband, father, and grandfather. Bud is survived by his wife, Beverly; children, Greg (Nancy) Hance of Portland, Kathie (Larry) Dixon, Susan (David) Gier, Mark Hance, and Jeff (Sharlene) Hance, all of Salem; sister, Muriel of Kennewick, Wash.; 14 grandchildren; and 16 great-grandchildren. he is preceded in death by his wife of 54 years, Helyn; son, John; parents; brother, Alden; sister, Leona; and grandson, Michael. A funeral Mass will be held at 11 a.m. on Tuesday, February 24 at Immaculate Conception Catholic Church in Stayton with a Rosary will be at 7 p.m. on Monday, February 23 at Weddle Funeral Home, Stayton. In lieu of flowers, donations can be made to Oregon Right to Life or Father Taaffe Foundation. Well miss you and love you always Rest in peace.

Arrangements entrusted to Weddle Funeral Services Stayton, Oregon.