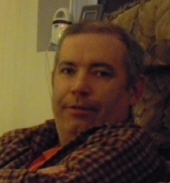 Obituary for Leon W. Hyatt
Leon W. Hyatt

April 7, 1959 June 1, 2014

Leon Hyatt was born April 7, 1959 in Condon Oregon to Harold and Cora Hyatt. The family lived in Fossil until he was a young child then moved to the Willamina Sheridan areas. When he was 11 they moved back to Fossil. He was very musically inclined played piano, organ and trumpet. He also liked to listen to classical music. He became a Christian when he was 17 and loved the Lord, and had an extensive knowledge of the Bible. He moved to the Stayton area in 1980 to work at NORPAC Foods. He married Debra Mooso in 1982 and the marriage dissolved after a few years. In 1986 married the love of his life Denise Gray. He had various jobs over the years but his claim to fame is his love for timepieces. He made a clock as a joke. Everyone liked it that he developed a hobby of making the gears first from wood and then from metal. He made various kinds from free standing to wall clocks to finally grandfather clocks. Leon was a quiet man and had so many various interests. If you got him to talking to him you would hear about all of them. Leon enjoyed going out with friends and shooting his various weapons. This was started by his father when they lived in Fossil and they would go out Chucker hunting, sand rat hunting, and target shooting at the Fossil Gun Club. He also, loved to ride his motorcycle. It was his goal to say he rode his motorcycle every month in the year…which he did for 27 years. He started bicycling when he was in High School by doing a fund raiser for diabetes and getting a medal for it. He joined the Cycling Club when he attended Oregon State. He then attended many races in the area winning a few, especially the Governor's Cup in 1978. In 1980 he decided that a 2 month bike trip across the United States to North Carolina to visit relatives. Just this last fall he bought a bike that he could ride in the rain. He wanted to train and join the Stayton Hospital Triathlon. As mentioned before he loved timepieces and that love transferred to watches and stopwatches. He has an extensive personal collection. But that did not end there. He would always look to see what kind of watch a person wore and if they didn't wear a watch that bothered him and he would find out why. If the reason was that they couldn't afford one or whatever the reason he would make it his mission to get them one. Often bringing them an assortment so they could pick out the one they liked. His generosity didn't end there. A few Christmas's ago he filled a BIG box with all kinds of food and delivered it to our Pastor.   The next Christmas he handed out three of them! He was always looking for how he could help other people. He drove the AWANA bus for First Baptist in Stayton, was Santa Claus at last year's Christmas Party at church, helped purchase bus tires for another church we attended…the list is endless. He was also an avid watcher of the horse races. He would personally bet on the horses and glad he never put any real money on them…he usually lost. His goal was one day going to at least one racetrack like Santa Anita and watching a race. He was preceded in death by son Eugene and daughter Sarah. His son Gene, by first wife Debra, was swept off the rocks at Depoe Bay in 2001. The body was never found. Leon was never the same after that. Knowing that Gene was a believer and is now in Heaven and he longed to go there. He is survived by his wife Denise; Marie (Chad) Clevenger, William Gray (Tisha); Matthew (Kim) Hyatt, Aaron (Katie) Hyatt. Grandchildren Laurana, Kalla, Hannah, Carter, Brayden, Sarnia, and Madison. Parents Harold (Linda) Hyatt, and Cora Hyatt. Sisters Cheri, Debbie, Becky, and Susan and their families. These are just the highlights of a life well lived. Leon will be missed greatly by all who knew him and loved him. "Death is but a doorway to life with Christ".   John 3:16

Arrangements entrusted to Weddle Funeral Services Stayton, Oregon.