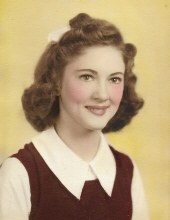 Obituary for Lila Lee Lewis
Corvallis- Lila Lee Lewis was born on May 26, 1923 near Clem, Oregon to Lee Albert and Nellie Lucille (Merritt) Larch.  She lived in and around Central Oregon for 18 years before moving to Corvallis to attend College on a 4H scholarship.  She attended Oregon Agricultural College earning a bachelor's degree in Home Economics in 1945.  This was where Lila met her future husband, Charles Stewart Lewis. While Chuck was serving in the Marines during WWII, Lila spent a summer as "Rosie the Riveter" in the shipyards in Portland, although she admitted her tack-welding skills were less than stellar. The two were married on April 27, 1945 in Corvallis, Oregon. Son Kirk was born in 1948, and daughters Molly and Charlotte in 1950 and 1952. The family lived in Coos Bay and Roseburg before returning to Corvallis.

In 1962, Lila enrolled at Oregon State University to earn a teaching degree. In 1963 she was probably the only 40-year-old pregnant student at the university. She gave birth to her youngest child Bev in 1964 and received a bachelor's degree in Elementary Education in 1966. This would start a long and rewarding career, first at Fairmont Elementary in Albany, Oregon from 1966 until 1981 and then at North Albany Elementary. She retired in 1985. 

Upon retirement, Lila spent her time caring for her mother and her grandchildren. She was a dedicated daughter, a good mother, and an extraordinary grandmother. She showed her love through acts of service; she cared for everyone.  She also enjoyed traveling the world.  She went to Greece, Turkey, Australia, Panama, Mexico, and Italy to name a few.  In her later years she took many trips with the family to the Big Island of Hawaii.    

Lila was a consummate teacher beyond her job at school.  She volunteered at the Literacy Center working with people learning English as a second language. Her use of words and communication skills were exceptional and her family often referred to her as a "grammar aficionado" .....and that would be the polite term.  In her last years, despite failing eyesight, she spent hours playing the online game "Words with Friends."  Even a few short weeks before her death she was a formidable opponent. Through this game she developed online friendships with people around the world. 

On March 14, 2021 Lila passed away in Corvallis, Oregon surrounded by family.  She was preceded in death by her parents, Lee and Nellie; husband Chuck; and siblings, Charles Larch, William "Schooner" Larch, Carl Larch, Bevely Larch Hunter and Roland "Sandy" Larch.  She is survived by her children, Kirk (Judi) Lewis, Molly (Mike) Albrecht, Charlotte Chrisman, and Bev (Jeff Peterson) Thomas; and Grandchildren, Andy Albrecht, Robin Albrecht, Baird Chrisman, Mark Chrisman and Meredith Thomas.

Lila died with the same grace and dignity with which she lived and will be missed dearly.