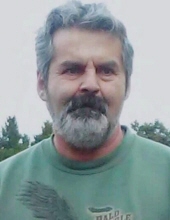 Obituary for Lonnie Raymond Tishmack
Lonnie passed away Sunday after a difficult battle with cancer. He was the 6th of 13 siblings. To some he was considered The Wild Child of the family. 

His career as a long-haul truck driver ended in a disabling accident. He continued to enjoy riding motorcycles and driving fast. Lonnie found contentment in the beauty of nature, cutting firewood, tinkering, or just relaxing by the river fishing. He was a lover of dogs and all things Harley Davidson!

He is preceded in death by his parents, George and Ann Tishmack, and four brothers: Richard, David, Robert, and Steven.

Lonnie is survived by his sons Adam and David Tishmack, three granddaughters, a great-grandson; and his siblings: Sandra Herrera, DeVonne Koch, Doug Tishmack, Brenda Ladd, George Tishmack, Joeleen Billups, Rodney Tishmack, and Renee Tishmack. 

He was loved and will be missed by Candi and Donna Darras; his extended family; many life-long friends; and his caregivers, Mike and Tina Larsen (and family) of Guardian Angel AFC. 

No services will be held but a Celebration of Life is being planned for the near future.