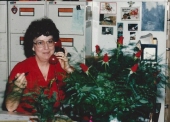 Obituary for M. ARLENE BAUGHN
January 10, 1928 January 1, 2014

Melva Arlene Morris Mills Baughn passed into the arms of the Lord at 7:30 A.M. January 1, 2014.  She was brought into this world January 10, 1928 in Newberg, Oregon, the youngest of 5 children, all of whom preceded her in death as well as her parents Lovic and Myrtle Morris. Arlene loved her garden, craft work and sales at the craft shows.  She looked forward to her and her husbands many trips to visit their 7 grandchildren and 8 great-grandchildren.  Hunting was also a special time together with her husband, Harold.  It was during these times that they got to know each other all over again.  Harold and Arlene were married for 59 wonderful years.  Arlene worked for the State of Oregon in 1950 for a short time and then transferred to the Department of Forestry.  She retired in 1988 after 37 1/2 years.  She was well liked in the timber industry where she approved the brands that were used to brand the loaded logs.  Arlene is survived by her children; Roy Mills of Idaho, Vickie Mills-Williams of Idaho and Sheree Kumm of Oregon.  Arlene had 7 grandchildren, 8 great-grandchildren and numerous nieces and nephews.  She is also survived by her husband Harold who taught her to hunt and she taught him that drinking was not good, he credits her for saving his life!  They again will travel the Forest road, look for strange rocks and enjoy the sunsets.  Funeral Services will be held 2:00 p.m., Monday, January 6, 2014 at Weddle Funeral Chapel with interment to follow at Lone Oak Cemetery.  Contributions: The Humane Society of your choice.

Arrangements entrusted to Weddle Funeral Services Stayton, OR.