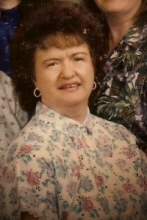 Obituary for MADELON MADDIE HICKMAN
MADELON "MADDIE"  L.  HICKMAN

October 7, 1939   †   October 9, 2013

Madelon "Maddie" Hickman passed away on Wednesday, Oct. 9th .  She was 74.  The daughter of Thomas and Virginia Tyks.  Madelon was born in South Bend, Indiana on the 7th of October, 1939.  She had worked as a Truck Driver for Dick Simon Trucking Company.  She was married to Fred Hickman, he preceded her in death.  She enjoyed driving the United States and seeing all the different states.  She is survived by her daughers, Micaela "Micki" Valentine of Lyons, Danette Mackmer of Washington, Naomi Frost of Arizona; brother, Thomas Tyks II of South Bend; sisters, Franceska Leichtman of South Bend; Penelope Tyks of Fort Wayne, IN; seven grandchildren; and numerous great grandchildren.  She was preceded in death by her sister, Elaine Opaczewski.  Service will be private.  Memorials may be made to the Multiple Scerlosis Society.

Arrangements entrusted to Weddle Funeral Services Stayton, OR.