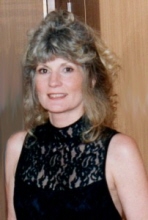 Obituary for MARCELES L. FISHER
Nov. 10, 1954 – Sept. 29, 2012
Scio, Oregon

Marceles L. Fisher, age 57, passed away on Saturday, September 29th.  Marceles was born in Garden City, Kansas and moved as a young child to Oregon.  She graduated from Central Linn High School.   She continued her education at Chemeketa  and Lane  Community College.  She was married to Ken Fisher in 1983 in Junction City and they made their home in Fern Ridge Lake before moving to Salem in 1989 and to Scio in 2000.  She had owned and operated, alongside her husband, a horse stable and travel agency.  She enjoyed crafts and was an incredible painter, especially painting animals.  She was always researching ways to protect animal rights and save the wild horses.

Marceles is survived by her husband, Ken of Scio; son, Thomas of Tualatin; mother, Marleta Black and sister, Marchele Black both of Aumsville.

Memorials may be made to the Jane Goodall Assoc.

Private family service will be held.

Arrangements entrusted to Weddle Funeral Services Stayton, OR.