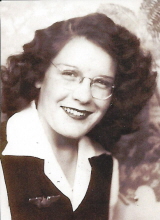 Obituary for MARIAN E. (SMITH) WOODRUM
December 2, 1926 – August 23, 2013

Marian went to be with the Lord peacefully on August 23, 2013. Marian was born in Fallon, Nevada to James and Edna Smith. She was the middle child of five children – Rhoda Long of Roseburg, Robert (deceased) and Shirley Smith of Turner, Emma Smith (deceased) and Iola Smith (deceased). There are also five half brothers and sisters – Bonnie Layton of Keizer, Vernon Smith (deceased), Howard Smith (deceased), Penny of Eugene and Margie of Eugene. Marian married Austin Travis Woodrum, Sr. on June 16th, 1946 (Austin passed away May 15th, 1995) they were married 49 years, 10 months and 29 days. They had six children – Joyce (Larry) Hoover of Aumsville, Austin Jr. (Marilyn) of Reno, Nevada, Allen of Tonapah, Arizona, Janice (Pat) Gorham of Turner, Lucky of Kingman, Arizona and Kimberley (Keith) Johnson of Salem. They had 13 grandchildren and 23 great grandchildren. They lived in the Turner-Salem area before moving to California in 1955, where they became business owners in Rodeo, California. They returned to Aumsville, Oregon in 1967. Austin retired from the Oregon State Penitentiary, Marian was a stay at home wife and mother until 1976. She went to work at the Stayton Cannery in 1976 and retired in 1989. Marian enjoyed the beach and going to the Santiam Senior Center in Stayton with her BFF Crystal. She enjoyed going to local plays and attended church in Stayton. She loved and cared greatly for her children, grandchildren and great grandchildren and we will love and miss our Mom, Grandma, and Grandma GG. Tess, her little Chihuahua was her constant companion. There will be a viewing at Weddle Funeral Chapel at 1777 N. Third Avenue in Stayton, Oregon on August 28th, 2013 from 9 a.m. to 7 p.m. In lieu of flowers please make a donation to the Santiam Senior Center – her friends at the Santiam Senior Center played an integral part of her life. We will also have a celebration of life on September 29th, 2013 at the Aumsville Community Center (555 Main St. Aumsville, Oregon) from 1 p.m. to 4 p.m. Please come and celebrate with us.

Arrangements entrusted to Weddle Funeral Services Stayton, OR.