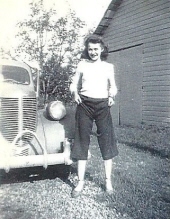 Obituary for MARIE A. CHRISTENSEN
October 5, 1923 February 5, 2014

Marie Christensen, 90, passed away peacefully after living a life she fully intended to live: full of spunk, hard work, creativity, laughter and, most importantly, on her own terms. She was a woman before her time and showed a fiery spirit unmatched among women in her generation. She was a tom boy at heart and fearless. She could do anything the boys could do – and probably better. She was known to ride motorcycles, drive log trucks, was an avid hunter and always walked around with a cigarette in hand. She was a wonderful mate to her husband of 63-years (Ellie) and a dedicated mom to both a daughter (Darlene) and a son (Bob) which she always loved to mention, "I got one of each." She had a contagious giggle and was talented in so many ways: she taught herself to play the piano, played the Spanish guitar and was a gifted seamstress, making all her children's clothes and dance costumes. She was truly a role model to her five grandchildren and 14 great-grandchildren and although she was independent, she always had time for her own family plus her parents and all of her brothers and sisters. She loved to share her many loves including baking ginger snaps, snicker doodles, bread and the best cinnamon rolls around. She loved summertime so she could pick strawberries, grow vegetables and take her grandchildren camping on Marion Lake.

Arrangements entrusted to Weddle Funeral Services Stayton, OR.