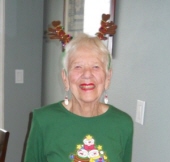 Obituary for MARTHA JOY CHARLES
April 5, 1917 September 5, 2014

Martha Joy Charles recently passed away in her sleep while at home at the age of 97. Joy, as her acquaintances called her, had a never ending enthusiasm for life. She radiated love and happiness and brought so much "joy" to those around her.

Joy was born in Denver, Colorado to Charles and Margaret Adams. She graduated with honors from high school and at the age of 22 married Alfred John Charles (a marriage that lasted 65 years.) Joy enjoyed being a housewife and mother to her three children, Margaret (Margie) Stromquist Coffey, Barbara Shipman and Robert Charles. In 1960 the family moved to Portland Oregon, then to Houston Texas, and back to Mill City, Oregon in 1980. Several years after John's death, Joy moved to Tillamook and then to Crooked River Ranch to be closer to her daughter, Margie.

Joy, throughout her life enrolled in self- improvement classes and never quit learning and teaching. She excelled in sewing, quilting, embroidery, crocheting, crafting, tole painting, china painting, and community service. She served as President of Portland Newcomers Club and Portland Welcome Wagon. She was active in her Presbyterian Church and PEO Chapters in Portland and Stayton-Mill City. In 1970 she was honored by being chosen to serve as Chairman of the PEO State Convention. She greatly loved music and singing and acted as one of the king's wives in the musical The King and I.

She enjoyed her last 2 ½ years being close to her family and new friends, camping with her grandson and his family, watching eagles soar, feeding apples to the deer and knitting dish rags for family and friends.

Martha Joy is survived by Craig and Margie Coffey, John and Barbara Shipman, Robert John Charles and Wendy Silver. She had 6 Grandchildren and 7 Great-Grandchildren. She had such a zest for life and will be greatly missed. Her words on the afternoon before she passed were: "I am so happy. You all need to be happy too. Isn't that what life is all about?" THAT WAS JOY! A celebration of her life will be held in Mill City, Oregon. No date has been set at this time.

Arrangements entrusted to Weddle Funeral Services Stayton, OR.