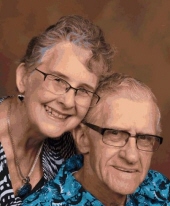 Obituary for MARVIN DEAN SLOAN
September 18, 1934 June 17, 2013

Marvin Dean Sloan was born to Roy Otis Sloan and Bernice Beulah (Ramsey) Sloan,  September 18, 1934 in Wallace, Nebraska. He died on June 17th, 2013—his mother's birthday.

Marvin moved to Oregon when he was four years old and grew up in Weston, Oregon. He graduated from Weston High School in 1953, where during his senior year he was the high point man in the state track meet. He served in the United States Navy from 1955-1959 as an aircraft engine mechanic and plane captain on the USS Midway. While in the Navy, he received a commendation for his good service as a plane captain, a medal for good conduct, and an honorable discharge.

Marvin was introduced to his wife, Lynda, by mutual friends on August 24th, 1960. Marvin and Lynda were married on June 9th, 1962 in Weston Methodist Church. He went to work for Eastern Oregon State Hospital in January 1961 until he retired in 1991. He was employee of the year. The family grew when Alicia Pauline was born on May 12th, 1965 and two years later when Hope Larae was born on May 3rd, 1967. The family enjoyed travelling and camping and took several cross-country trips together. Marvin and Lynda were blessed with a granddaughter, Blythe Gwendolyn, born to Hope Larae on February 12th, 1988. Marvin, Lynda, Hope, and Blythe moved to Salem, Oregon together in 1991. Marvin worked for DeWitt Security for fourteen years in Salem, which he referred to as his "real job" because it brought him so much joy. He was a member of the Pendleton Elks Lodge #288 and the Salem Elks Lodge #336, where he served one year as the Chairman of the Board of Trustees and then for fifteen years as Tiler. Marvin was a member of Morningside United Methodist Church from 1991 to his death.

He was preceded in death by his brother Louis Duane Sloan, his parents, and his grandparents. He is survived by his loving wife, Lynda; and daughters, Alicia and Hope and partner Bryan Bagwell; granddaughter, Blythe and husband Aaron Toninato. He is also survived by brothers Clint and wife Connie Sloan; Roger and wife Bonnie Sloan; Don and wife Helen Sloan; and sister-in-law Wanda Sloan.

You're a good man, Charlie Brown. We miss you.

Services will be held on Sunday, June 30th at 2:00pm at Morningside United Methodist Church. 3674 12th Street Southeast, Salem, Oregon 97301. Services to be held in Weston yet to be determined.

Contributions can be made to the Elks Lodge, Morningside United Methodist Church, the Union Gospel Mission, the Knight Cancer Institute, and the American Cancer Society, or to the charity of your choosing.

Arrangements entrusted to Weddle Funeral Services Stayton, OR.