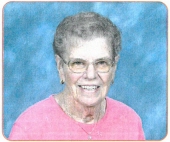 Obituary for MARY ANN WILLIAMS
MARY  ANN  WILLIAMS

Feb. 15, 1923   †   Oct. 3, 2013

Mary "Ann" Williams passed away on Thursday, Oct. 3rd at her home in Arizona.  Ann was the daughter of John and Margaret Underwood.  She was born on Feb. 15, 1923 in Los Angeles, California.  She attended Business college and worked as a Typist-Stenographer for the Automobile Club of Southern, California.  She  enlisted in the US Navy and served during WWII, having received the American Area Campaign  and World War II Victory medals.  She was married to Edwin "Ed" Williams on March 8, 1947 in San Diego.   She had worked for the Board of Forestry as a Purchaser in the Supply Dept. for 25 yrs. before retiring.   They made their home in Aumsville. Her husband, Ed, preceded her in death on March 13, 2000.  Ann moved to Arizona in 2010 to be closer to her family.  Ann was a member of the Catholic Church,  VFW, DAR and she enjoyed camping, fishing, gardening, especially roses, and traveling.  She is survived by her children, Maggie (Tom) O'Brien of Sierra Vista, AZ, TK (Dorothy) Williams of Juneau, Alaska, John (Cheryl) Williams of Eastern Oregon; 3 grandchildren; and 5 great grandchildren.  Memorial contributions may be made to the Alzheimers Assoc. or to the St. Boniface Catholic Church.  Memorial Mass will be held on Thurs. Oct. 17th at 11:00 am at St. Boniface Catholic Church, Sublimity, OR. Interment to follow in St. Boniface Catholic Cemetery, Sublimity.

Arrangements entrusted to Weddle Funeral Services Stayton, OR.