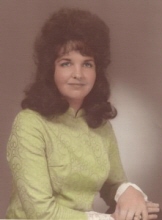 Obituary for MARY FRANCES JONES
January 5, 1944 January 11, 2013
Aumsville, Oregon Resident

Mary was born in Tahlequa, Oklahoma to George and Jewell Sanders. She later settled in Oregon with her parents and siblings. She is survived by; her children Mary Miller, Jason Jones, and Michael Willsey; and her siblings Jimmy, Johnny and Jerry Sanders, Beatrice Weiss, and Teresa Abu Adas. She was preceded in death by her parents. Memorial service will be held on Wednesday, January 16 at 3:00 P.M at Weddle Funeral Chapel in Stayton.

Arrangements entrusted to Weddle Funeral Services Stayton, OR.