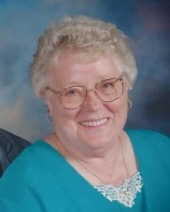 Obituary for MARY MARGARET BLOCK
July 27, 1927    †   March 24, 2014

Mary Margaret Block was born in Klamath Falls, Oregon on the 27th of July, 1927.  She passed away on Monday, March 24th  surrounded by family.   She was 86.  Mary graduated from Sacred Heart High School in Klamath Falls.   Mary was married to Robert Gilleran, he preceded her in death.  She moved to Stayton in 1966.  She was married to Robert Block in 1972.  Mary had worked in accounting at the Benedictine Nursing Home in Mt. Angel and for 10 years had worked as a cook in the Stayton Public Schools.  She was an active member of the Immaculate Conception Catholic Church and  served as a Eucharistic Minister.  She enjoyed gardening, quilting, camping, traveling, and spending time with family.  Mary is survived by her children: Ann Gilleran, Debbie (Larry) Miles, Tim Gilleran, Maureen (Gary) Bochsler, Kate (Richard) Heuberger, Teresa (John) Nester, Julie Thibodeau, Danette Falgout, Bob (Joanne) Block, Nadine (Don) Tuel, Jody (Marty) Cade, Ray ( Charlene) Block; brother, Martin Provost; sisters, Helen Fery, Karen Wagner; numerous grand and great grandchildren.  She was preceded in death by her son, Dennis Gilleran.

Prayer Vigil will be held Wed. March 26th at 5:30 pm.  Funeral Mass  will be held Thurs. March 27th at 10:00 am, both at Immaculate Conception Catholic Church, Stayton.

Rite of Christian Burial at St. Mary Cemetery, Stayton.

Memorials may be made to the Doernbecher  Childrens Hospital or Father Taaffe Foundation.

Immaculate Conception Catholic Church http://www.immacstayton.org/

Arrangements entrusted to Weddle Funeral Services Stayton, Oregon.