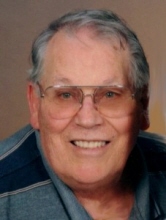 Obituary for MAX McMULLEN
January 16, 1930 October 22, 2012
Stayton Oregon

Max McMullen was born in Mankato, Kansas.  He was the only child of William and Enola McMullen.  He passed away on Monday, Oct. 22nd.  He was 82.    He grew up in Kansas, having played football and basketball during high school.  In 1946 he moved to Wyoming where he completed high school.  He served in the US Navy during the Korean Conflict and was assigned to the USS Bairoko, he also served as the engineer assigned to MSB19.   He met Connie Gallagher and they were married Nov. 18, 1951 in Yuma, AZ.  They had 3 children, Linda, Ginger and Bruce.  After his military service he found employment with North American Aviation, also known as Rocketdyne from 1955 until 1962.  He continued his education at Pierce College in 1957, and graduating in 1960.  He started work as an insurance agent for State Farm in 1962.  He moved to San Diego where he worked for the Auto Club and drove for Greyhound Bus Lines in the summer.  In 1964 he started working for Solar Turbines for aircraft before he became a Shell Oil Dealer.  He obtained his Plumbing Contractors license and was the owner of McMullen Plumbing, specializing in residential plumbing and remodeling.  He was divorced from Connie in 1980. He  joined a sailing club and sailed his 27' Catalina.  He met Peggy Bowlby and they were married on July 17, 1993 in Lemon Grove, CA.  They lived in California before  he retired in 1999 and they moved to Talent, Oregon where  they lived until moving to Stayton in 2005.  Together they are very active members of the Bethel Baptist Church in Aumsville and he enjoyed working on the Church building and maintenance, remodels and additions.  In addition to his beloved wife, Peggy, he is survived by his daughter Linda McMullen (Tom Heitmann) of Queensland, Australia; son, Bruce McMullen of Sacramento, CA; daughter, Ginger McMullen MD  of Sacramento, CA; step-children, Teresa Horvath of San Diego, CA, Jeanette (David)Rosenberg of Sacramento, CA; and 3 grandchildren, Sarah Horvath, Sharon and Mitchell Rosenberg.

Celebration of life will be held on Sat. Nov. 3rd at 3:00 pm at the Bethel Baptist Church in Aumsville.  Interment with military honors will be at Sacramento Valley National Cemetery, Dixon, CA.

Memorials may be made to Bethel Baptist Church or Willamette Valley Hospice.

Bethel Baptist Church Website: http://www.bethelaumsville.org/

Arrangements entrusted to Weddle Funeral Services Stayton, OR.