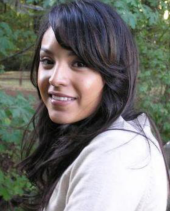 Obituary for MINDY RODRIQUEZ
MINDY RODRIQUEZ

June 11, 1988   †   April 28, 2013

Mindy Rodriquez, 24, of Stayton passed away on Sunday the 28th of April.  The daughter of Antonio and Maria Rodriquez.  Mindy was born in Fresno, California and moved to Stayton 20 yrs. ago.  She graduated from Cascade High School and  had recently worked at Lakeside Assisted Living as a Medical Aide.   She enjoyed fishing, sewing, crafts and drawing.  Mindy is survived  by her parents, Antonio Jr. and Maria Rodriquez of Stayton; sisters, Elsa (Genaro) Navarro of Sublimity, Liza (William) Williams of Stayton, Lillie (Felipe) Mendoza of Vancouver, WA, Nellie Rodriquez of Medford, Bianca (Shane) Rodriquez of Stayton; brothers, Anthony Rodriquez of Aumsville, T.C. Rodriquez of Stayton; grandparents, Jesus and Asencion Lizaola of Stayton; numerous aunt, uncles, nieces, nephews and cousins.  The family has opened  an account  for donations  to help with funeral expenses at the Chase Bank under Elsa Navarro (last 4 digits of account 3928).

Visitation will be Monday, May 6th from 2:30 pm 5:30 pm At Weddle Funeral Services, Stayton.  Rosary will be held on Monday, May 6th at 7:45 pm at the Immaculate Conception Church, Stayton.  Funeral Mass will be Tuesday, May 7th at 1:00pm at Immaculate Conception Church, Stayton.   Rite of Committal at St. Marys Catholic Cemetery, Stayton.

Immaculate Conception Catholic Church http://www.immacstayton.org/

Arrangements entrusted to Weddle Funeral Services Stayton, OR.