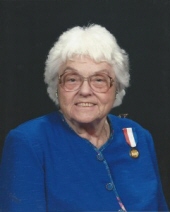 Obituary for Mable Adeline Thomas Overholts
Mable Adeline Thomas Overholts

July 25, 1915—May 16, 2016

Sublimity, Oregon

Mable Adeline Thomas Overholts was born July 25, 1915 to Edward and Clara Louise Thomas in Klondike Oregon, a few miles East of Wasco,Oregon. She worked on her fathers wheat farm when growing up and graduated from Wasco High in 1932. She also worked as housekeeper to save money for nursing school and with the help of her parents was able to move to Portland in 1935 where she entered the Nursing school at Emanuel Hospital, graduating in 1938.

She married Marvin Merle Overholts on July 2, 1939. They stayed in Portland where she worked at Emanuel in the nursery for the next six years. In 1947 Mable and Marvin bought a new gas station at North Santiam (five miles west of Stayton going towards Marion) operating it until 1958. Mable wrote news articles for the Stayton Mail on what was happening in the North Santiam area.

In 1953 Mable and Marvin moved to Stayton, Oregon the same year the Santiam Memorial Hospital opened. Mable was a nurse at the hospital and retired after 25 years. She enjoyed helping people even delivered some babies when the doctor didnt get there in time. After she retired from the hospital she worked in several doctors offices in Stayton and also helped with the Red Cross blood drives. She gave up her nursing license at the age of 75. A Girl Scout Leader, Eastern Star member for 50 years, and joined the Daughters of American Revolution Society in 2004, followed by her Daughter and Granddaughter 2012. They also helped start the Santiam Historical Society with six others in 1984. They stayed active at the Stayton Methodist Church for many years as their health would allow.

Affectionately called M & M, they enjoyed RV travel from the mid 1970s until 1998 going across the US and Canada including Alaska. They made it all 50 states by flying to Hawaii in 1994. Frequently enjoyed camping with the Salem Elks 336 and the Good Sam groups.

Survivors include Daughter-in-law Janet Overholts (Terry Lee, deceased) of Vernal, Utah; Daughter Linda Hagel (Terrance) of Chiloquin, Oregon; grandchildren, Andrea McCausland (Geoff) of Salem, Clint Hagel (Jennifer) of Soldotna, Alaska, LaRae Connor of Silverton, Oregon; and six great grandchildren.

A memorial service will be held at 2 PM Sunday July 24 at United Methodist Church, 1450 Fern Ridge Rd, Stayton. In lieu of flowers donations may be made to Santiam Historical Society PO Box 360 Stayton, Oregon, 97383 or  Santiam Memorial Hospital 1401 N. 10th Ave, Stayton, Oregon, 97383.

A memorial service will be held Sunday, July 24, 2016 at 2pm at the Stayton United Methodist Church.

Arrangements entrusted to Weddle Funeral Services, Stayton.