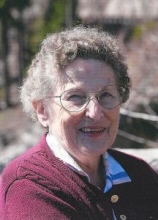 Obituary for Mardell L. Barnett
Mardell L. Barnett

June 11, 1924 October 18, 2017

Salem, Oregon

Mardell (Johnston) Barnett, aged 93, passed away peacefully on October 18, 2017 in Salem surrounded by family. Mom was born on June 11, 1924 in Portland to Charles and Leah Johnston. She grew up in St. Helens, spending her summers in the woods around Vernonia. In 1943 she attended a USO dance in Seaside where she met her future husband, Edward Barnett. They hit it off and were married on February 11, 1944 in San Francisco before dad shipped out to the war in the Pacific Theater. After Dad's return in 1945, they moved to Houston where Don and Sandie were born. In 1948 they moved back to St. Helens where they welcomed Artie, Judy, and Vickie. Moving again in 1955 to Redmond, they were blessed with three more children; Cheryl, Kevin, and Greg. Living in Redmond for the next 20 years, Mom spent her time between family, her garden, and enjoying the many outdoor opportunities. In 1975 the family moved to Stayton where she spent many happy years with her family and her flower garden. She was preceded in death by her parents, her husband, and son, Artie. She is survived by her children; Don and wife Cindy, Sandie, Judy, Vickie and husband John, Cheryl and husband Dominic, Kevin, Greg. Twelve grandchildren and twelve great-grandchildren.

A graveside service will be held on Tuesday, October 24, 2017 at Lone Oak Cemetery at 2:00PM.