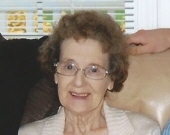 Obituary for Margaret Peggy M. Nicol
Margaret "Peggy" Main Nicol, age 86, passed away peacefully in her sleep on March 14, 2014. Peggy was born in Catterline, Scotland on November 9th, 1927. Peggy is preceded in death by her husband, Robert Nicol, parents Annie Brown (of Nairn Inverness-shire, Scotland) and Thomas Elder (of Aberdeen, Scotland), and brothers Thomas, Douglas, and Peter. She is survived by her sister, Willamina "Billie" (of Wonthaggi, Australia), brothers Keith and James (of England), daughter Donna (Greg) (of Silverton, OR), son Gary (Lorinda) (of Spokane, WA), and grandchildren Justin (Susan), Jennifer, Brittany, Jacob, and Scotty.     Peggy's father enlisted in the Air Force during World War II, taking him from Scotland into England where he travelled from one end of the British Isle to the other. He enjoyed England, and when he returned home, he decided to move his family there. The entire family, except Peggy, made the move to Southampton, England. Peggy, who was working as a live-in maid at the time, decided to remain in Scotland. However, one wet, stormy night in the winter of 1953, Peggy grew tired of her life as a maid, gathered her small bag of possessions, put on a hooded rain coat, and ran away into the night to catch a bus to England to join her family. This escapade was just the beginning of the wanderlust that would follow her throughout her life.     In England, rejoined with her family, Peggy began work as a clerk in a department store, which she enjoyed very much. She loved talking with new people and hearing "a different story every day." Peggy's life was going quite smoothly; she had a good job, had rejoined her family, and was engaged to a respectable man. Then, Robert "Bob" Nicol entered the scene while on holiday in England where he joined up with Peggy's brothers and fell in love with Peggy. His boisterous charm and infectious smile quickly won Peggy's heart. Peggy ended her previous engagement and spent her free time with Bob. They quickly began a  weekend routine of going out to the pubs together for dancing and music. One night in the pub, Peggy and Bob along with her Auntie Cath and Uncle George, cooked up an idea to emigrate to Canada. Within days they had bought tickets for a ship travelling from England to New York. The men would go first to find jobs and housing, and the women would come as soon as the men sent a letter. Bob got a job in an oil field and sent a letter to Peggy to join him in Canada. Peggy and Auntie Cath set sail aboard the S.S. Flandre on June 7th, 1957, leaving Southampton, England and arriving in New York on June 19th, following the same route as the Titanic. After arriving in New York, they boarded a train to Toronto followed by another train to Edmonton, where they were warmly welcomed by their men. Soon after, Peggy and Bob were married in Edmonton, wearing only the clothes they had with them, and began their new life together. They lived and worked in Edmonton until 1963, and it was there that Peggy gave birth to their two children, Donna in 1958 and Gary in 1959. After a bit of travelling in the U.S., Peggy and Bob got the itch to move again, and applied for citizenship with the U.S.A. Consulate. Six months later, after coming up with the money and sponsorship required to move to the States, they were finally granted entrance, and put their two children and everything they owned into a car, and drove south. Sleeping in the car and driving for hours, they finally arrived in California, welcoming the sunshine and palm trees. They eventually pulled off the highway, found a home, and settled into their new lives as Americans.    In 1969, their gypsy blood got the best of them again, and they decided to leave the rat race in California and head north. They moved up to Federal Way, Washington for a year, before heading south again to Oregon, where they settled in Keizer in 1970….and finally stayed. Bob worked as a mechanic and Peggy worked first at a local department store then as a waitress at the Picadilly Pub where she was named the Queen of Industry in 1974 and later at a British tea room called the Tudor Rose.

Peggy was a woman who loved words. She dominated the competition in BINGO. She finished the crossword puzzle daily. Every evening she religiously tuned the TV to Jeopardy and Wheel of Fortune, and routinely called out the correct answers before any of the real contestants. Her house was filled with paper scraps full of poems, limericks, puns, and jokes written in her whimsical handwriting. She loved listening to stories and telling them. One of her poems, "I Yearn For a World" was published in Famous Poems of the Twentieth Century. She won a contest for the Keizer parade, coining the phrase for the Iris Festival, "The Promise of a Future in Bloom." She was known in all the Keizer grocery stores as "the coupon lady," as she spent hours clipping, organizing, and utilizing coupons. Her garage became a mini supermarket filled with items she had purchased at rock bottom prices. Her neighbors shopped in "Peggy's store". She loved to dance. At the hint of a request, she would lift her dress from her ankles and skip into the Highland Fling to the utter delight of any onlookers. She passionately loved animals, always feeding and adopting neighborhood strays. Her loyal cat Judy, who was well-loved and completely spoiled, stayed by Peggy's side until the end.     Peggy and Bob became grandparents for the first time in 1982, a role in which they were unrivaled. They spent endless hours playing with their 5 grandchildren, spoiling them rotten. They dropped everything to play games, tell stories, go rock-collecting, and build kip-ups. Peggy, master storyteller, would sleep on the ground at night with the children, weaving long and intricate stories aloud to the kids until they fell asleep. Each child would get to choose the main characters of their stories, and she would take it from there. They spent countless weekends together playing dress up, inventing new games, eating JELLO from cocktail glasses, and building an environment where the children couldn't help but feel like kings and queens. Bob and Peggy's enormous influence on their grandchildren's childhood memories is beyond measure.     In 1985, Peggy accepted Christ as her Savior at a Luis Palau crusade.  Unbeknownst to her, her son Gary attended the very same crusade and came forward to accept Christ as well.     Peggy will be dearly missed here on this earth. She created a life of love, adventure, and imagination. Her spunk and creativity will not soon be forgotten. While her body is now at rest, and her soul is at peace, the legacies that she has left will live on: Take risks and make scary choices, where you end up is all part of the story! Wander the world. Use your imagination, tell great stories. Drink good tea, and eat king-size candy bars on your own, without regret. Have fun with life, dance while you can. Spoil those you love. And finally, you only have one chance to live the life that becomes your story, so be bold and follow your heart; make it an interesting tale.  No services will be held and Peggys cremains will return to Scotland.

Any donations may be made in Peggy's honor to the Oregon Humane Society.

"I Yearn For A World"

I yearn for a world,

Where we all love one another,

Forgive those who wrong us,

Make peace with our brother.

Help a friend in need,

Give a neighbor a helping hand,

Live the golden rule,

To make this a better land.

Give a word of praise,

To those who pass your way,

A smile, a kind word,

Can brighten someone's day.

And before you go to sleep,

Give thanks to God above,

For the greatest gift of all,

His everlasting love.

By: Margaret M Nicol

Arrangements entrusted to Weddle Funeral Services Stayton, OR.