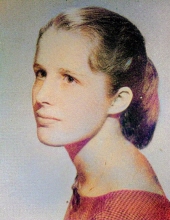 Obituary for Margaret Stewart Olson
Lebanon- Margaret Stewart Olson was born on February 3, 1941 in Fresno, California to William and Helen (Landell) Stewart.  The family moved around California when she was a child, but she would ultimately graduate from John Muir High School, Pasadena, with the class of 1959.  After high school she would graduate from San Jose State University with a Bachelor's in Health and Hygiene.

Soon after graduating from college she would meet Verne Olson at a church event.  The two started dating and would be married on October 19, 1968 at Valley Church in Cupertino, California. They would soon move to Reno, Nevada where they would raise their two children, Helen and David.  While in Reno, Margaret worked at St. Mary's Hospital in the admitting department before getting a job with the University of Nevada as a Library Assistant.  She would work there for almost 23 years before retiring in 2010.  She was also a long-time attendee of Reno Christian Fellowship until moving to Lebanon, Oregon after her husband passed away in 2009.  While in Lebanon she attended Lacomb Bible Church and Community Bible Church.

She treasured reading her Bible, meditating on Scripture, attending her Bible Study at Lacomb Bible Church and enjoyed serving at Community Bible Church. She loved learning about Old West pioneer history and pioneer cemeteries, visiting her daughter, son-in-law and her two grandsons. She also liked being outdoors whether it was travelling to historic sites in the U.S.A., hiking, gardening, or participating in beach cleanups. She was an active volunteer in neighborhood cleanups and was pleased to meet new people along the way. She had the heart of a servant, doing her part  to make a difference. At the same time, she preferred not to draw attention to herself. Most of all though, she loved her family very much and was committed to doing whatever she could to love and support them.

On September 17, 2020 Margaret passed away at her home in Lebanon, Oregon, with her son and daughter and dear friends beside her.  She was preceded in passing by her loving husband, Verne; parents, William and Helen; and brother Billy.  She is survived by her children, Helen (Michael) Belmares and David Olson; grandchildren, David and Paul; and her cats, Wilbur and Chloe.