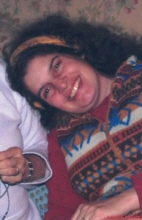 Obituary for Maria Carmel Hutzler
Maria Carmel Hutzler

September 3, 1966 March 24, 2017

Lyons, Oregon

Maria Hutzler, 50, passed away Friday, March 24 near her home in Lyons, Oregon. She will be sorely missed. Born in Santa Clara, California on September 3, 1966, to Harry and Patricia Horn (née Gomez), she graduated from Sunnyvale High School in California in 1984, and earned her bachelors degree in English from Willamette University in Salem in 1989. She married her loving husband, Ralph, October 31, 1992. Together they raised three children, son Coby, born 1988; daughter Stevie, born 1993; and their youngest son, Randy, born 1998.Maria was a fighter and a fierce protector of her family. She was also humble, shrugging off her accomplishments and shunning praise. She was creative, strong, and caring, always giving her whole self to the people around her. And she was joyful, splitting at the seams when she was laughing her hardest. Maria is survived by her loving husband, Ralph, and three children, Coby, Stevie and Randy; by her son-in-law, Marvin; by her mother and father, Patricia and Harry, and her sister, April, and her cousins Diana and Dean.

A celebration of Marias life will take place on Friday, March 31, at 1 p.m. at Weddle Funeral Services in Stayton, Oregon, 1777 N Third Ave.

Arrangements entrusted to Weddle Funeral.