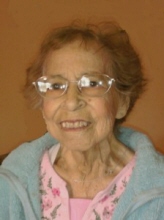 Obituary for Maria de Atoche Benavides Vela
Maria de Atoche Benavides Vela

Oct. 9, 1934 – June 25, 2012
Jefferson, Oregon Resident

Maria de Atoche Benavides Vela passed away on Monday the 25th at her home in Jefferson.  She was 77 years old.  The daughter of Luz and Celestina Benavides.  Maria was married to Gregorio Vela Sr. on Oct. 5, 1955 in Texas and they made their home in Texas before moving to Aumsville in 1962. Gregorio preceded her in death on Jan. 2, 2000 and she moved  to Jefferson in 2006.  Maria was a member of the Seventh Day Adventist Church in Stayton.  She   retired  in 1996 after working for  Norpac in Salem.  Maria enjoyed gardening, drawing, watching soap operas, crocheting and spending time with family.

She is survived by her daughters, Patricia Vela-Beck of Chico, CA, Martina Marker of Jefferson; sons, Gregorio Jr. of Jefferson, Albino of Gervais, Rolando of Aumsville, Roy  of Stayton and Rene of Jefferson; 8 brothers, Margarito, Ramon, David, Luciano, Nino; sisters, Isabel Moreno, Lucinda Estrada, Bique Vega; 8 grandchildren; and  2 great grandchildren.

Visitation will be from Noon until 5 pm on Thursday, and 9 am until noon on Friday followed by Funeral service at 1:00 pm all at Weddle Funeral Chapel, Stayton.

Vault interment at Lone Oak Cemetery, Stayton.

Memorials may be made to the American Heart Assoc.

Arrangements entrusted to Weddle Funeral Services Stayton, OR.