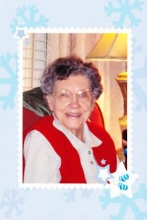 Obituary for Marian Louise Ebbett
Marian Louise Ebbett

June 26, 1919-December 9, 2013

Marian passed away peacefully at her home in Stayton, Oregon at age 94.  She was born in Sunnyside, Idaho on June 26, 1919. She married Harold Wayne Ebbett in 1939.  Wayne preceded her in death in 1993. She was also preceded in death by her parents, Alfred and Hazel Palmer, and brothers Richard and James Palmer.  

 After their marriage, they settled in Sandpoint, Idaho.  Wayne worked for several local logging firms, building and maintaining logging roads, while Marian kept their home and raised their children.  In addition to her homemaking activity, Marian was very involved in her community.  She served her church and community in many different ways, including long-term service with the American Cancer Society. She served several terms on the Bonner County School Board as well as leading many PTA groups. Her commitment to civic service culminated in her election to Mayor of Sandpoint in 1983, where she served one term, 1984-1988.

 Marian was noted by all who knew her as a dutiful daughter, caring sister, devoted wife, loving mother, doting grandmother, faithful friend, and dedicated public servant.  All those qualities were recognized in 2003, when she was honored as a "Woman of Wisdom" by a local organization, Women Honoring Women.  It is an organization committed to recognizing women who, over the course of their lives, have contributed to the betterment of community through their service and leadership, and who have served as inspirational role models.

 In 1998, Marian moved to Sublimity, Oregon, in order to be near her daughter and family.  She was also thrilled to enjoy a much more moderate year-round climate, where she could constantly have flowers, as well as several bird feeders, yet another passion.

 Marian is survived by her brother, Perry Palmer (Charlotte) of Sandpoint, Idaho and four children: Gerald "Jerry" Ebbett of Phoenix, Arizona, David Ebbett (Sandey) of Coeur d Alene , Idaho, Marilynn McKinney of Florida, and Sydney "Syd" Wallace (John) of Stayton, Oregon.  She also leaves behind seven grandchildren and six great grandchildren.

 She will be greatly missed by her family and friends.  A late-spring memorial service to celebrate her life will be held in Sandpoint.  

Arrangements entrusted to Weddle Funeral Services Stayton, Oregon.