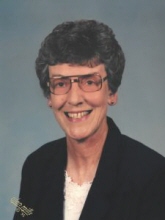 Obituary for Marie Therese Fenwick
Marie Therese Fenwick
December 11, 1930 – September 30, 2017
Stayton, Oregon

Marie Fenwick, age 86, of Stayton, Oregon, passed away Saturday, September 30th at McKillops Residence in Sublimity, Oregon.
Marie was born in Beverly, Massachusetts, and graduated from Beverly High School class of 1948. Marie was the last surviving child of the late William and Leonne (St. Jean) Patch. Marie's college education included a 4 year teaching degree. In 1954 she traveled from Massachusetts to Mesa, Arizona, where she taught 2nd grade for 7 years. In 1961, Marie left Arizona and drove the Alcan Highway to pursue her teaching career in the new state of Alaska. In 1965 she met her husband C.J. Fenwick at the PTA. C.J. was a widower with four children. They were married later that year. After retiring, Marie and C.J. moved to Stayton in 1975 where they spent many wonderful years in the home they built in the Kingston Jordan valley outside of Stayton.
Marie was a devoted lifelong Catholic and developed many close friendships with the people of the Immaculate Conception Parish in Stayton. She also enjoyed golf and her friendships with the ladies of the Santiam Golf course. Marie was an accomplished artist and enjoyed the time spent applying her craft in her art studio. Marie was fiercely independent, uncompromising in her faith, and devoted to love of family, friends, and country.
Along with her parents and husband, Marie was preceded in death by her two brothers, Richard and Robert Patch, and her stepdaughter Patricia Nolan. Marie is survived by three stepchildren, Mike (Lace) Fenwick, John (Linda) Fenwick, Kelly (Ric) Salata, and many nieces, nephews, and grandchildren.
There will be a Prayer Vigil for Marie on Friday, October 13th at 10:00 a.m. followed by the Mass of Christian Burial at the Immaculate Conception Parish in Stayton, Oregon.
In lieu of flowers, donation can be made to the Immaculate Conception Parish at 1077 N Sixth Ave, Stayton, OR 97383. Arrangements entrusted to Weddle Funeral Services. Online condolences at www.Weddle-Funeral.com.