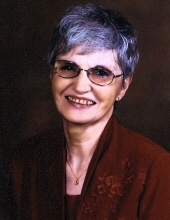 Obituary for Marilyn Cecelia (Minden) Trower
CORVALLIS- Marilyn Cecelia (Minden) Trower died February 13, 2019, at her home after a lengthy illness. She was 82.

Marilyn was born April 27, 1936, at her family home in Sublimity to Barbara (Schotthoefer) and Bernard Minden, the eldest of six girls and one boy. She was raised in Sublimity, attending Catholic schools until graduating from St. Boniface High School in 1953.

She married Edwin J. Nielson of Stayton in 1954; They later divorced. The union produced five children, of which four survive: Scott Nielson of Seattle, Wash; Jeffrey Nielson of Corvallis; Barb Nielson Duggins of Bend and Theresa Nielson Mabe of Toledo. She also had 11 grandchildren and 15 great grandchildren.

Marilyn was preceded in death by a daughter Elizabeth Pfefferkuch, of Newport; her parents, Bernard and Barbara; sister Doris Minden Wipper and brother Bernard Minden Jr. She is survived by sisters Peggy Zelfer of San Antonio, TX; Barbara Conyne of Milwaukie; Jacqueline Barrington of Corvallis; Constance Wolf of Seattle, WA; and sister-in-law Jean Minden of Portland.

One of Trower's biggest accomplishments in life was earning her bachelor's degree in counseling and social work from Portland State University in Portland after her children had grown. She spent many years working for the State of Oregon's Children Protective Services helping children who had become the victims of violence or crime.

A lifelong Catholic, she was a member of St. Mary's Catholic Church of Corvallis. A service at St. Mary's will be held Friday March 8th at 11:30 AM. A private inurnment will take place at St. Boniface Cemetery in Sublimity, Oregon.

Remembrances may be made to Lumina Hospice, formerly Benton County Hospice of Corvallis, which made her final days easier.