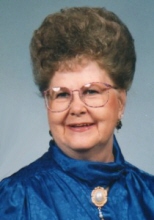 Obituary for Marion Elaine Pinard
Marion Elaine Pinard

May 2, 1927- August 25, 2012

Our Mom slipped away in her sleep after a short but fierce battle with ovarian cancer. Just as she lived her life, she showed us courage and strength in her death. Born in Letcher, South Dakota to Anna Kemp and Benjamin Thompson she lived her entire childhood in South Dakota. At the age of nineteen she married her life-long partner Bob Pinard. In 1950 they settled in Arcata. In 2008 she moved to Aumsville, Oregon until her death. She loved spending time with her family, travelling, shopping, and in her later years watching the game show network. She was a long time member of St. Marys Catholic Church where she taught catechism, was a Marian Visitor and served on the Altar Society. She also volunteered many years at Pacific Union School where she served as the president of the PTA, organizing several school carnivals and was a room mother countless times. She enjoyed her Pink Lady years as a volunteer at Mad River Hospital. She was a member of the McKinleyville Moose Lodge and the Arcata Eagles. She is survived by her six children Jan (Dean) Tackette of Trinity Center, CA, Rosemary Wakefield and Mary Mondragon of Aumsville, OR, Mike (Laura) Pinard of Arcata,CA, Ray (Bernie) Pinard of Cave Junction, OR, and Bev (Steve) Bacchetti of Sublimity, OR. Ten grandchildren Kirsten (Chris) Heller, Natasha (Mike) Couey, Bennie(Kyndal) and Felicia Mondragon, Bobby (Jennifer) and Amanda Pinard, Tyler Pinard, Sabrina (Mark) Gonzales, Wes and Stephanie Bacchetti and 15great-grandchildren. Mom was always game for a good time and a good time was had by all. She is preceded in death by her husband, Bob, parents Anna and Ben, daughter Joann, four brothers, and son-in-law Jerry Wakefield. Our hearts are heavy and we will miss you terribly but you are with dad now and may you rest in peace. Thank you for all you did for us. God Bless you.  Your loving family.

Rosary will be held at Pauls Chapel in Arcata, CA on Friday, August 31st at 7:00 pm. Funeral service will be held Saturday also at Pauls Chapel. Interment will be at Ocean View Cemetery in Eureka, CA.

Arrangements entrusted to Weddle Funeral Services Stayton, OR.