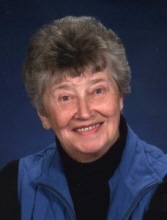 Obituary for Marjorie Marie Humphreys
Marjorie Marie Humphreys

September 30, 1931 May 20, 2016

Sublimity, Oregon

Marjorie was born September 30, 1931 to Peter and Nettie (VanHandel) Gries in Stayton, Oregon.  Marjorie attended St. Boniface grade school and high school, graduating from high school in 1949.  She met Robert Humphreys on a blind date, and they were married in 1951.   They were married for 50 years, until Robert's death in 2001. 

Bob and Marge worked side by side on their farm in the hills between Silverton and Sublimity, raising grass seed, along with grain crops, sheep, cattle, pigs, chickens, horses and the four children.  Marge played a big role in the community by keeping the neighborhood connected, hosting an annual neighborhood Christmas brunch, baking birthday cakes for many neighbors, and baking pies for many church and Grange functions.  She was also an active member of the McAlpin Stitchers, Victor Point PTA, her Church Circle, and a 4-H leader.   Her greatest joy was being surrounded by Family.  Every Sunday afternoon was a family gathering, with her kids, grandkids, and great grandkids converging on the farm. 

She is survived by her siblings Marcella Lulay, Donna Lou Frost, Jim Gries, and Gary Gries as well as by her four children: Janet (Mike) Bothum of Silverton, Vicki (Ron) Sarazin of Sherwood, Rob (Linda) Humphreys of Oregon City, and Mark (Cindy) Humphreys of Eugene.   In addition to her siblings and children Marjorie is survived by 12 grandchildren and 13 great grandchildren.   Marge was preceded in death by her husband Robert, and siblings Muriel Hafner, and Jack Gries. 

A rosary will be said at 6:30 PM on Wednesday May 25 at St. Boniface Church in Sublimity.  A funeral Mass will be held at St. Boniface Catholic Church on Thursday, May 26 at 11:00 AM. There will be a reception at St Anthony Hall following mass.  In lieu of flowers, the family would appreciate a contribution to the Robert and Marjorie Humphreys Scholarship Fund (check payable to PBNC Foundation) for the further education of the Service Partners and others at Orchard House and the Benedictine Center in Mt. Angel.