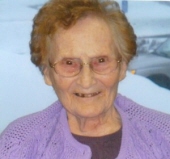 Obituary for Mary M. Baribeau
Mary M. Baribeau

May 31, 1921 – May 13, 2014

Mary was born in Stockton, California to Mary and Thomas Becker. The family moved to Oregon where Mary completed her education at Mt. Angel Academy. Mary served her country as a civil servant for the U.S. Dept. of the Navy at Tongue Point, Washington. There she met Ralph F. Baribeau and they married October 19, 1938 in Salem. She was a Farmer's wife and homemaker. She worked at Stayton Cannery and later worked as a Resource Assistant with the Bureau of Land Management for 29 years. Her memberships include NARF, Lifetime member of Union Hill Grange, Stayton/Sublimity Garden Club, Marian Estate Auxillary, St. Boniface Alter Society, Turner Home Extension, Professional Secretaries Association and Cascade Foothill Squares. She is survived by her children: Robert T. (Michiko) Baribeau, Margaret M. (David) Gilbert-Atlhaus, Ronald R. Baribeau, John C. (Carl) Baribeau, Annette M. (Mark) Jensen, grandchildren: Sarah (Gilbert) Smith, Gabe Gilbert, Greg Gilbert, Monique Baribeau, Michelle (Jensen) Osborn, Josh Jensen, Jonathan Jensen, Twelve great grandchildren, One great great grandchild. She was preceded in death by her husband, Ralph and son, Thomas J. Baribeau. Visitation: Friday, May 30, 2014 noon to 7:00 p.m. at Weddle Funeral Chapel. Rosary: Saturday, May 31, 2014 9:30 a.m. with Mass of Christian Burial at 10:30 a.m. both at St. Boniface Catholic Church. Vault Interment at St. Boniface Cemetery of Angels. Contributions: St. Mary's Grade School, Regis High School or St. Boniface Parish.

Arrangements entrusted to Weddle Funeral Services Stayton, Oregon.