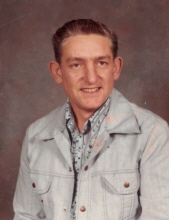 Obituary for Melbourn Wayne Strauser
Melbourn Wayne Strauser was born on February 26, 1937 to Wayne and Ruby (Byrd) Strauser. He passed away peacefully on Thursday, April 25, 2019 at Evergreen Hospice House in Albany, Oregon. Melbourn married Patsy Fowler on September 5, 1975 in Reno, Nevada. Melbourn was a Marine and Korean War Veteran, Mel was a family man, often willing to give all he had to help someone in need or spoil his grandchildren. Melbourn held many positions and jobs throughout his lifetime; he was a former solider, fireman, and volunteer fire chief in Klamath Falls, Oregon. Additionally, he also worked on heavy equipment as a mechanic and operated heavy equipment. Melbourn was "mans man" who enjoyed classic cars, old westerns and reading the want ads and watching rodeo. Anyone who knew him knows his heart was as big as he was. He will be greatly missed. He was preceded in death by his parents Wayne and Ruby Strauser; his son, Leon; sister, Blanche Miller; brothers Neil and Kenny Strauser and his daughter, Jeanie McCanlas. His is survived by his wife, Patsy Strauser; his son, Ralph Strauser; daughter, Patty Seavy; brothers, Gerald and DuWayne Strauser; grandchildren, James McCanlas, Johnna Provost, Nichole (Aaron) Heimbuch, Dean (Andrea) Seavy and 4 great grandchildren.


Events
Event Information
Services will be set for a future date to be determined.