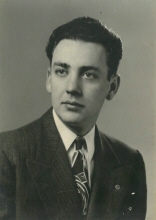 Obituary for NORMAN O. LEE
Birth: April 17, 1923

Died:  June 01, 2013

 Norman Lee, was born on a hilltop above Mehama, Oregon to Aurelia & Rolland Lee.  Norman spent his early years with his folks and younger sister, Ellen nearby grandparents August & Susan Zoellner.  Norm's mother passed away 1933 and the children moved to Astoria with a maternal aunt, Ellen (Zoellner) Cole and Roy Cole.  Norm graduated from Astoria High School 1943.  He was inducted into US Army and served with honor in the Americal Division in South Pacific.  He spent duty time in the Philippines, Solomon Islands and Tokyo.  He met his wife, our loving Mother, Ida Belle Lee, near Astoria, Oregon.  They married on November 21, 1948. Dad remained a faithful husband and father for 62 years until Moms passing in 2010.  Norman & Ida Belle married 1948 in the Astoria Christian Church and raised 5 children.  In Astoria he worked at various jobs; dairy plant, flour mill, seining with draft horses and nets in the middle of the Columbia River, on a river dredge near Reedsport on the Southern Oregon coast.  He was a delivery man for Wonder Bread about 3 months in Denver, Colorado.  Norman worked hard to support his family. Following a sojourn to Denver, Colorado in the summer 1957 Norm returned home to Oregon and the family permanently settled in Salem.  Norman worked at Oregon State Penitentiary as a furniture warehouse supervisor 25 years retiring 1983.  He enjoyed his family greatly, taking them on 5 road trips to Oklahoma, home to Ida's family of origin.  These trips were remembered with great good humor.  He savored Oregon's natural beauty, creating and passing along memories, stories and family history to his children.  During retirement he traveled with Ida on various short trips in Oregon.  Regular stops were made at Spirit Mountain to offer the fruits of his labor and homage to Native Peoples.  Norm & Ida often drove to the Central Coast to enjoy clam chowder at Mo's in Lincoln City.

He is survived by daughters Linda Sly (Richard), Norma Buckno (Raymond) Mary Free, sons Rolland Lee (Nina) and Matthew Lee (Connie) – Grandchildren: Jeremy Free, Heather Sly-Haley, Tabitha Timothy, Casey Lee-Curtis, Niki Buckno, Carissa Mitchell-Lee, MacKenzie Lee, Matthew James Lee, Natalie Lee and Brennen Lee.  Great grandchildren: Lily, Madison, Haley, Bridgette, Zachery, & Jamison.  Norman was predeceased by his parents, Aurelia & Rolland Lee, sister, Ellen (Lee) Knowland, granddaughter Brina (Free) Eng and his wife of 62 years, Ida Belle (Dunnigan) Lee.  A funeral service will be held at Weddle's Funeral Home, Stayton, Saturday, June 8 at 11:30 am.  Interment following at Fox Valley Cemetery, Lyons.

Arrangements entrusted to Weddle Funeral Services Stayton, OR.